Forum on Private Equity and Asset Management in the New Regulatory Era and Release Conference of Legal Health Index of National Private Equity Industry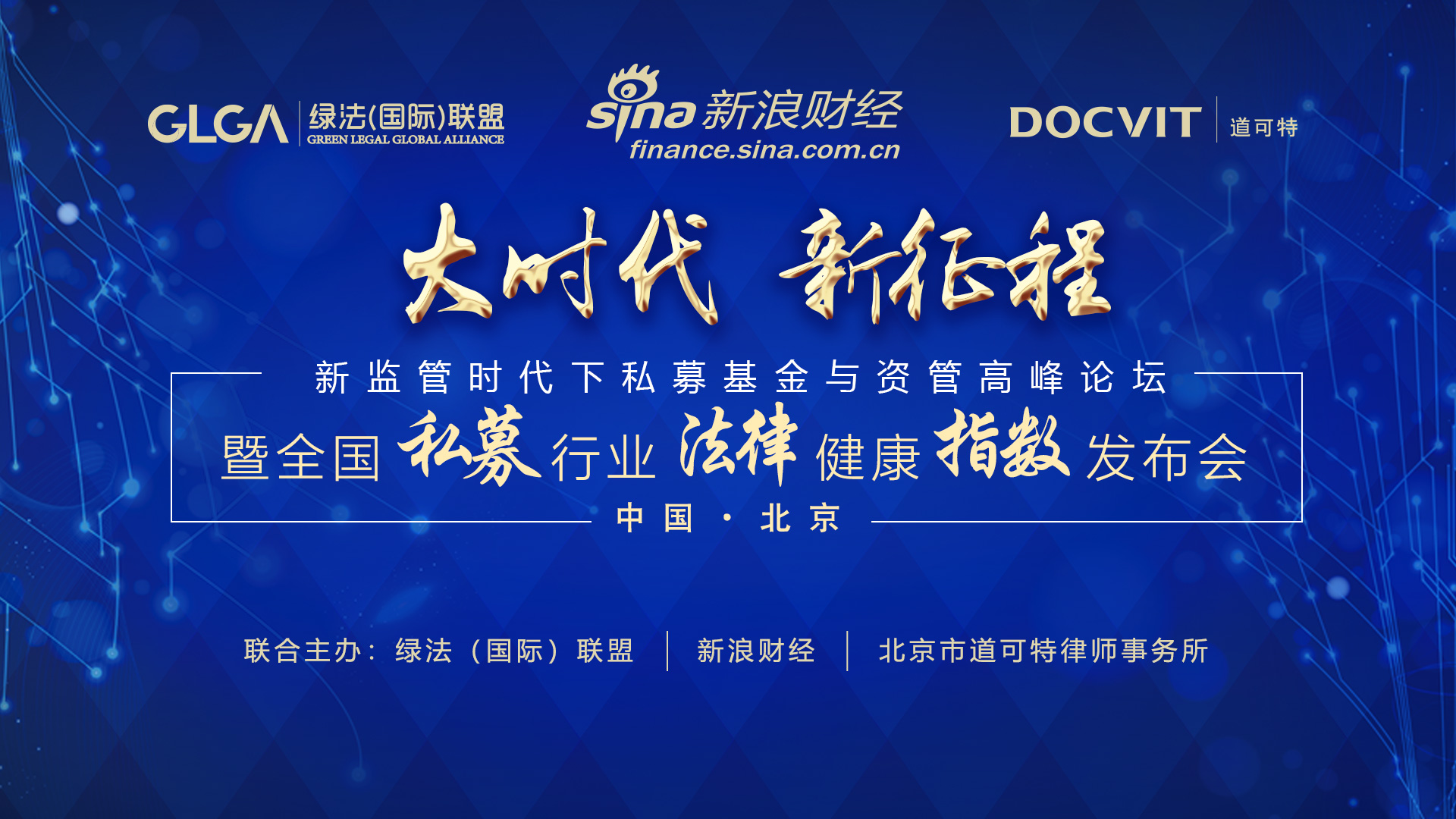 Recently, the new regulations on asset management were issued, which posed both development opportunities and major changes to the private equity fund industry. In the pan-asset management and unified supervision era, how to understand the background and impact of the new regulations? breaking the rigid payment, controlling the structured fund, de-leveraging, raising the threshold, banning the capital pool, denesting, and de-channeling: how would they affect the asset management industry? What impact will the new regulations on asset management have on PE fund managers and PE funds? What is the present development situation of private equity industry? And what characteristics do legislation system, regulatory system, market system and juridical practice present?
In light of the questions and reflections brought about by the new trend of the times and the new changes in the industry, the Green Legal Global Alliance (GLGA), Sina Finance, Beijing DOCVIT Law Firm will jointly host "Forum on Private Equity and Asset Management in the New Regulatory Era and Release Conference of Legal Health Index of National Private Equity Industry" to discuss the above-mentioned issues. At the forum, Legal Health Index of National Private Equity Industry will be released for the first time, so as to comprehensively and objectively reflect the development status of China's private equity industry, and look into its development trend in the future.
Session 1: Opening Ceremony & keynote speeches
1. The moderator makes opening remarks and introduces the guests 09:00-09:10
2. Opening address 09:10-09:30
3. Keynote speeches 09:30-10:30
Session 2: Sub-forum 1: Development trend of PE fund in the new regulatory era 10:30-12:00
Luncheon 12:00-13:30
Session 3: Release Conference of Legal Health Index of National Private Equity Industry 13:30-14:35
Tea Break: 14:35-14:50
Session 4: Sub-forum 2: Development opportunities and challenges of the insurance asset management industry in the new situation 14:50-16:20
Session 5: Sub-forum 3: New trend of China's FOF development trend 16:20-17:50
Session 6: Closing Ceremony 17:50-18:00
May be interested
Professional Team
A
B
C
D
E
F
G
H
I
J
K
L
M
N
O
P
Q
R
S
T
U
V
W
X
Y
Z
Search
Professional Interpretation
More
Both party A and party B are shareholders of company a, with a accounting for 30% of the shares and B for a state-owned enterprise holding company, accounting for 50% of the shares. Mr. Li is a director appointed by company B to company a, and also the head of financial department of company A. At the beginning of 2021, party A learned that there was still 1 million yuan of capital contribution of company B due but not paid in, and Mr. Li never called on company B according to his duty when he clearly learned that company B did not fulfill his obligation of capital contribution. In addition, Li used his authority to change the management authority of company A's office system, adjust the relevant processes and procedures of the company's internal management, and put pressure on the employees without reason, resulting in the failure of company A's normal operation for three consecutive months. In view of Li's behavior, how should company a and shareholders a protect the rights and interests of the company and themselves?

In recent years, the competition for corporate control has become more and more intense. The form of competition is no longer confined to the background, but gradually moved to the stage. In order to fight for corporate control, the disputes about the representation of corporate will caused by the internal power struggle in commercial cases are increasing. Voting right has also become the focus of contention among shareholders. If they fail to fulfill the obligation of capital contribution on schedule, there are serious differences among shareholders about whether their voting right can be limited. In the absence of special provisions in the articles of association, should shareholders vote according to the proportion of paid in capital contribution or the proportion of subscribed capital contribution?

Party A, Party B and Party C established company a in 2008, holding 51%, 45% and 4% shares respectively. In 2018, due to policy adjustment, the main business of company a could not continue to operate. Party A, Party B and Party C held shareholders' meetings on the transformation and development direction of company a for many times, but Party A and Party B could not reach an agreement. Up to now, the development of the company has been stagnant, How can companies get out of trouble?
Beijing Docvit Law Firm (Docvit in short), which was established in 2003, is one of the few earliest law firms instituted as a corporation rather than partnership in China. Aimed at building a high quality law firm with professional competence, Docvit fostered innovation under its unique system of operating as a large-scale corporation. Benefited with its core-competitiveness, such as international insights and full IT application management mode, to name some of them, Docvit pursued cross-border development and established an image of high-end brand in a industrialized market. In 2015, Docvit was ushered into a "3.0 era" of moderate-scale development, which witnessed the gradual formation of nation-wide and world-wide layout with the start-up of branch offices in Tianjin, Jinan, Shenzhen, Shanghai, Chengdu, Taiyuan, Hong Kong, London and other places in succession.