Positioned as "green firm" and focusing on "cross-industry"——1st Forum on Development and Innovation of Chinese Law Firms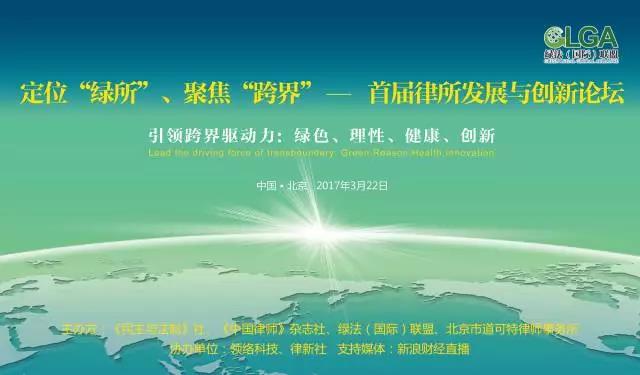 In recent years, with the smooth running of macroeconomy, China's legal cause has seen great development. At present, the number of practicing lawyers and law firms in China has grown rapidly, however, in the face of market competition and social transformation, Chinese lawyer profession faces new challenges and tests; and the rise of new technologies such as Internet and big data put forward a higher requirement for legal services.
In order to seek law firms' innovative development space, promote the sound development of Chinese lawyer profession, Democracy and Legal System, Chinese Lawyer, the Green Legal Global Alliance (GLGA) and Beijing DOCVIT Law Firm jointly initiated the Forum on Development and Innovation of Chinese Law Firm to, on the basis of implementing the guiding principles of the newly revised Administrative Measures for Law Firms and Measures for the Administration of the Lawyer's Practice, explore the development law and nature of Chinese lawyer profession and, through cross-industry communication and discussions, explore new models of law firm management and new directions of Chinese lawyer profession, striving to achieve new breakthroughs in development. We will work with all parties to cultivate the backbone force of the industry, promote the sound development of the industry, and inject new vitality and impetus into the rule of law in China, striving to build the Forum on Development and Innovation of Chinese Law Firms into the most valuable, characteristic, influential, authoritative and cohesive industry brand forum in the national lawyer profession.
This forum centers on two themes: positioned as "green firm" and focusing on "cross-industry", and the participants held dialogues on the related topics. Excellent law firm directors and lawyer representatives from all over the country aired their opinions on law firms' management mechanism, culture building, market development and other topics, sharing their experience in law firm management & operation, and exchanging ideas on Chinese lawyer profession's sound development; the speaking guests presented unique, brilliant views that involved both forward-looking, academic analysis at the macro level and case-specific field research at the micro level.
The 1st Forum on Development and Innovation of Chinese Law Firms is a forum to study and judge the development trend of the industry, a forum for exploration and thinking, and a forum for achievements sharing and exchange. It provides the lawyers nationwide and even people in all sectors of society with an important platform for resource sharing, information exchange, problem analysis and interaction, injecting a force of innovation into China's rule of law cause, contributing wisdom and strength to the smooth, proper functioning of Chinese lawyer profession.
The forum has fully integrated and given play to the resource advantages, created a good study and discussion atmosphere, built an extensive communication platform, to together welcome the 19th CPC National Congress!
Session 1: Opening Ceremony
13:30-13:35 The moderator makes opening remarks and introduces the leaders and guests
13:35-13:55 Speeches by guests and leaders
13:55 -14:35 Keynote speeches
LI Xiaoxi: The 2030 Agenda for Sustainable Development of the United Nations and Its Implementation in China: The Legal Guarantee Effect of Green Development
LIU Guangchao: Positioned as "green firm" and focusing on "cross-industry": A Common Mission of the Lawyer Profession
Session 2: Forum Launch Ceremony, Moderator: LIU Guiming
14:35-14:40 Forum Launch Ceremony
Session 3: High-end dialogue: The choice of "Green Firm": sound development of law firms; moderator: MA Huijuan
Topic 1: How to promote the sound development of the industry from a law firm's perspective
Topic 2: Corporatized or commission-based: choice confusion and integration trend
Topic 3: From law firm to "green firm": law firms' management nature and development model innovation
Topic 4: The importance of lawyers' physical and mental health to building a green law firm and a happy law firm
Topic 5: How to reflect differentiated development and core competitiveness of law firms
14:40-15:10 Keynote speeches
15:10-15:40 Topic speeches
15:40-15:55 Free speeches
15:55-16:10 Tea break
Session 4: Theme Salon: The charm of "cross-industry": on law firms' development and innovation; moderator: YUN Dahui
Topic 1: Is lawyers' cross-industry the result of the industry's inherent law or an innovation of development ideas
Topic 2: The important role of market innovation in law firms' green development and cross-industry integration

Topic 3: The industry needs "law+internet", or "internet+ law"
Topic 4: The boundary and degree of lawyers' cross-industry: be a legal professional or a businessman of law
Topic 5: Can cross-industry help law firms break through the market and talent dilemmas
16:14-16:40 Keynote speeches
16:40-17:10 Topic speeches
17:10-17:25 Free speeches
Session 5: Free discussion
17:25-17:55 Free discussion
Session 6: Closing Ceremony
17:55-18:00 Closing speech
May be interested
Professional Team
A
B
C
D
E
F
G
H
I
J
K
L
M
N
O
P
Q
R
S
T
U
V
W
X
Y
Z
Search
Professional Interpretation
More
Both party A and party B are shareholders of company a, with a accounting for 30% of the shares and B for a state-owned enterprise holding company, accounting for 50% of the shares. Mr. Li is a director appointed by company B to company a, and also the head of financial department of company A. At the beginning of 2021, party A learned that there was still 1 million yuan of capital contribution of company B due but not paid in, and Mr. Li never called on company B according to his duty when he clearly learned that company B did not fulfill his obligation of capital contribution. In addition, Li used his authority to change the management authority of company A's office system, adjust the relevant processes and procedures of the company's internal management, and put pressure on the employees without reason, resulting in the failure of company A's normal operation for three consecutive months. In view of Li's behavior, how should company a and shareholders a protect the rights and interests of the company and themselves?

In recent years, the competition for corporate control has become more and more intense. The form of competition is no longer confined to the background, but gradually moved to the stage. In order to fight for corporate control, the disputes about the representation of corporate will caused by the internal power struggle in commercial cases are increasing. Voting right has also become the focus of contention among shareholders. If they fail to fulfill the obligation of capital contribution on schedule, there are serious differences among shareholders about whether their voting right can be limited. In the absence of special provisions in the articles of association, should shareholders vote according to the proportion of paid in capital contribution or the proportion of subscribed capital contribution?

Party A, Party B and Party C established company a in 2008, holding 51%, 45% and 4% shares respectively. In 2018, due to policy adjustment, the main business of company a could not continue to operate. Party A, Party B and Party C held shareholders' meetings on the transformation and development direction of company a for many times, but Party A and Party B could not reach an agreement. Up to now, the development of the company has been stagnant, How can companies get out of trouble?
Beijing Docvit Law Firm (Docvit in short), which was established in 2003, is one of the few earliest law firms instituted as a corporation rather than partnership in China. Aimed at building a high quality law firm with professional competence, Docvit fostered innovation under its unique system of operating as a large-scale corporation. Benefited with its core-competitiveness, such as international insights and full IT application management mode, to name some of them, Docvit pursued cross-border development and established an image of high-end brand in a industrialized market. In 2015, Docvit was ushered into a "3.0 era" of moderate-scale development, which witnessed the gradual formation of nation-wide and world-wide layout with the start-up of branch offices in Tianjin, Jinan, Shenzhen, Shanghai, Chengdu, Taiyuan, Hong Kong, London and other places in succession.