Insurance Industry Legal Service Product Manual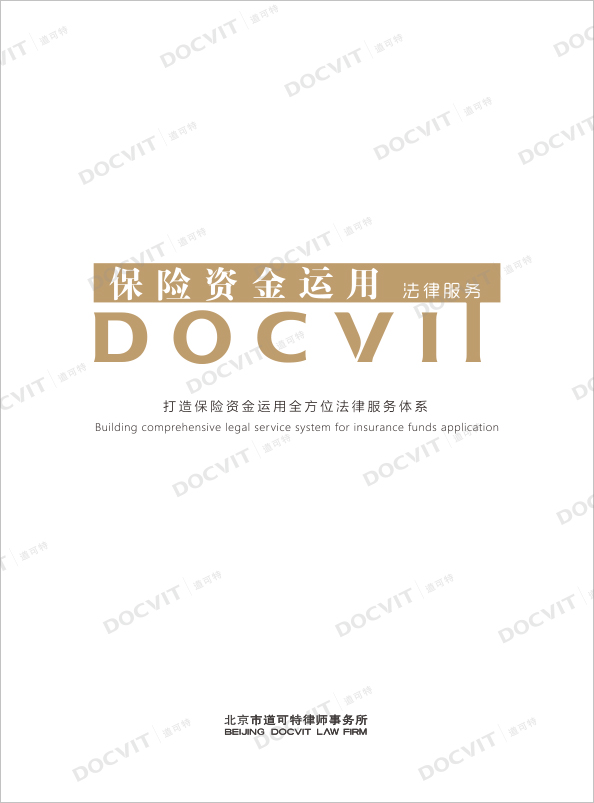 With the broad development opportunities in the insurance industry, the coming risk and challenge can't be ignored. New disputes and new cases in the insurance product innovation risk and insurance legal compliance emerge one after another. Insurance asset management is facing the challenge of rising capital costs, increasing industry competition and increasing asset allocation difficulties, which determine that insurance legal services will develop in a more professional and efficient manner.
With the advent of the pan-asset management era, the extensive application of insurance technology, as well as the continuous strengthening of insurance regulation, it is believed that the insurance industry will usher in broad prospects for development. As a branded law firm with financial capital and large-scale comprehensive project legal business as its core, Docvit's professional insurance legal service team will make the utmost of its professional advantages in the field of insurance legal services, gradually integrate market resources and strengthen team building, to meet new opportunities and challenges, provide more professional, efficient and mature legal services for the insurance industry and promote the standardized development of the insurance industry.
May be interested
Professional Team
A
B
C
D
E
F
G
H
I
J
K
L
M
N
O
P
Q
R
S
T
U
V
W
X
Y
Z
Search
With the launch of the "Fellow Program", Docvit hopes to unite with the like-minded lawyers of the country to build a career platform and realize their career dreams together. "Fellow Program I" aims to recruit partners, business partners and executive directors for the Docvit Branch in China.

"Fellow Program II" aims to recruit partners and lawyers for Docvit Headquarters and Beijing Office across the country and around the world to become what the industry, Docvit itself, market and clients want.

"Fellow Program III" aims to recruit partners for national branches of Docvit nationwide and globally. Docvit's national and global development blueprints require more partners to draw together, and let us work together to create a respectable law firm.
At present, China's financial open-up has entered a substantial promotion stage, and as an important link thereof, opening-up of insurance industry plays a unique role in financial opening-up. Under the new opening-up pattern of finance and insurance industry, and in the new situation of pan-asset management and integrated development, it has become an urgent topic to discuss and study how China's insurance asset management institutions should grasp development opportunities, meet challenges head on, how to promote standardized transformation and sound development of the insurance and insurance asset management industries, and how to achieve innovation and high-quality development in compliance.

Halfway through 2019, how will the bond market perform in the second half of the year? How will various factors affecting the bond market work? Where are the investment opportunities? How do bond default disposal and bond market develop under the new normal of economy? In order to discuss the above issues in depth, Beijing DOCVIT Law Firm will hold a seminar "bond default disposal and bond market development under the new normal of economy". At the seminar, DOCVIT bond default dispute resolution new product line will be released; the product line studies and analyzes the development environment of China's bond market and the problems and challenges facing its dispute resolution in the context of the new normal of economy and, from a legal perspective, explores the new ideas on bond default disposal in the context of tighter regulation.

In recent years, in the face of a complex international environment and arduous tasks of domestic reform, development and stability, China's economy has maintained a generally steady development trend. However, the Sino-US trade issue is still unresolved and, given the aftershocks of domestic market's breaking the rigid payment, can China's economy maintain low volatility and high-quality, stable development in the future? And what opportunities and challenges will China's macroeconomic development face?